What is so exceptional about email marketing in today's era? How do emails still make a groundbreaking impact when an event organizer invites attendees through that medium? Companies still effectively design and utilize email marketing strategies to win over event promotions.
There are great hacks to step up a level for your event email marketing game. Learn how to drive people to your event with your next email marketing campaign. Here are a few creative ideas event marketers can implement:
---
Clear CTA's:
Emphasis on the CTA does tend to drive better results. The CTA in every email be it an event promotional email or an event invitation or even a post-event survey mail has to stand out.
Leverage the average time any subscriber spends on an email to make the most of it. Use bold elements, buttons, noticeable color and short & concise copy for an instant glance.
---
Insert creative elements like Gif's in the email
Imagine you've got just 10-12 seconds to capture a reader's attention on an email. How do you make the most of it? – My guess, less readable content more visual ones. Use Gif's, videos, interactive images, and other creative content that ought to bring more results. Including images that showcase a live event or audience interaction helps engage subscribers.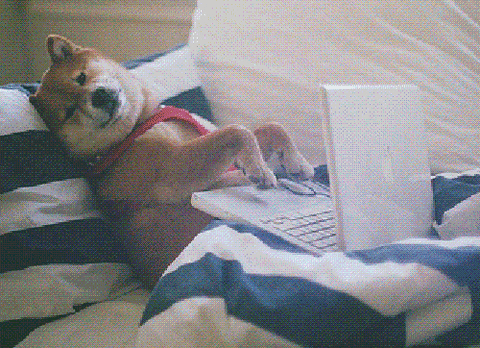 ---
Power of Personalization
Reach out to people with personalized emails. The touch of personalization never fails to impress the readers as they are able to connect with the email instantly. The relevance of an email is directly proportional to the level of engagement. Personalization throughout the event lifecycle is useful. Here's an ultimate guide that you can refer to level up your event management practices.
---
Design Mobile responsive emails
It's a mobile age. The rate at which mobile usage has increased is commendable. Almost 70% of people check their emails on their mobile phones. So, why miss out on the biggest target audience because of unresponsive or less readable mail on phone?
Source: https://www.campaignmonitor.com/dev-resources/guides/mobile/
You have to make sure your email looks stunning on every device. Use an email service provider that offers responsive templates, adaptive to all screen sizes. Also, make sure to preview the emails on all devices before actually sending them to your audience.
---
Use spam-free email subject lines
Crafting the perfect e-mail is imperative. It is vital that the first point of contact through e-mails doesn't go in vain. Hence, you must take every step necessary to avoid your e-mails from falling into the e-mailer death trap aka the spam folder. Some of the basic rules to keep in mind are:
     

Don't use more than 2 punctuation marks.

     

Never use all caps in the subject line

     

A big no-no to long subject lines

     

Don't overstuff the subject line with keywords and so on
Here's a more detailed guide on how to create a spam-free email subject line.
---
Build dynamic content
Smart content or dynamic content is certainly a boost to the level of personalization given that it's done right. Smart content gives event marketers the power to modify a part of your email based on the receiver. It has been observed that smart content or dynamic content increases the CTR by 20-25%.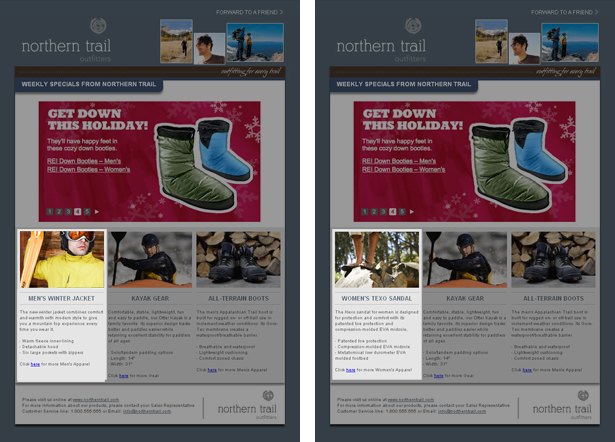 Source: https://instapage.com/blog/dynamic-content-email-personalization
An example of smart content in an email can be a dynamic image that changes based on the location of the receiver or the season in which the mail is being sent.
---
A/B test & improve your email performance
Experiment with your emails using a different type of content inside the emails and different subject lines. But how to measure what's working? Here comes the email A/B testing strategy. Create 2 different emails and send them to different contact lists. You can analyze the results once the emails are sent and compare the metrics like CTR's, open rates and read time and so on. Decide which ones delivered the preferred results and use that template to send out to the bulk audience.
You can test many different components, like subject lines, tone of the email, design, CTA's, content, etc.
Source: https://www.campaignmonitor.com/resources/guides/ab-test-email-marketing-campaigns/
Remember, every email campaign gives event marketers an opportunity to learn and improve their tactics. With the above-mentioned tactics, event marketers are set to nail the event marketing campaign with emails! Emails are a potent medium to reach out to your audience, keep them updated, encourage them to engage at the event and boost the engagement. Use this medium wisely and make your event a huge success.
---
Juhi Purswani is currently working as a Digital Marketing Executive in Hubilo. She is a passionate writer and loves to research and explore new and unique topics. Working in an event-tech company, she is getting accustomed to the technological revolutions that are taking place in the event management industry. You can follow her on Twitter and LinkedIn.